Fan·girl: (of a female fan) behaving in an obsessive or overexcited way.
Gather around Young Loud Proud, this is Part II of How NOT to fangirl (when you really want to). #YLPtalk
This past year I've been in a few unbelievable situations where I could've fangirl-ed the hell out of a couple of my favorite celebrities and could've made some memorable events, but I chose to stay quiet and keep to myself with the overall goal of not acting like a complete fan (even though my insides were exploding). It's a self-control thing, I'll tell you all about it, here goes nothing!
How to act like you don't care that: Mary J Blige, Judy Jamison, Lena Waithe, Naomi Campbell, Naturi Naughton, Fantasia, Beverly Johnson, Queen Latifah, Ciara, Janet Jackson & Phylicia Rashad are all sitting within arms reach when all you want to do is run up to them, give out hugs, pull out your camera, and snap selfies:
I attended the filming of the was the Black Girls Rock 2018 awards show and the only question on my mind was: Do I carpe diem or nah?
BET just aired the 2018 awards show "Black Girls Rock" (on 9/9/18) an annual celebration of Black women while recognizing some of the most prominent pioneers in culture.
I had a brief close-up camera appearance so the excitement of seeing myself on TV a few weeks after the filming, basically prompted this "Part II" (of a new ongoing series on Young Loud Proud about keeping your cool and resisting the urge to fangirl celebrities).
A few weeks ago, my best friend sent me a link to attend a taping of this awards show and since I've always dreamed of going, this "win a chance to attend" link was right on the money (just not my money—that was a joke). I figured "sure" anything free is for me; it didn't matter that it was almost 3 hours away in New Jersey.
So I signed right on up and the following week I was sent a surprise text asking me to confirm my attendance to the "2017 Soul Train Awards." I rolled my eyes so hard at the confirmation, I was already reluctant to travel for this event, and part of me felt like this was the confirmation of some scam, after all, the title, year, and overall details of the show were so off.
Any who, it was all good because once I arrived, I saw a bunch of elegantly dressed people and signs indicating that I was indeed at the right show. It was a huge relief to see event staff eagerly smiling with their "Black Girls Rock event staff" tee shirts on.
So, then I exhaled. I was signed up for the correct show, traveled to the right location, made it on time, I was super cute in my semi-formal outfit, the last thing to ease my mind was the understanding of my role…while I thought I won exclusive seats what I really signed up for was an opportunity to be a seat filler.
For those of you who don't really know who or what "seat fillers" are for award shows (if you're reading this puzzled don't worry I was too) the name is pretty self-explanatory. I was signing up to fill seats as necessary for the duration of the Black Girls Rock ceremony. I was expected to be shifted around, to make room, and fill in seats as necessary for the models, actors, actresses, and VIPs (et al.).
Once I ingested the duties of a seat filler after being prepped by the event staff, my best friend and I was ushered into a waiting area/auditorium where we waited over 2 hours in the hopes of being needed.
In the agreement, it clearly stated that not everyone would be chosen, so I braced myself for rejection. I don't know why sometimes I count myself out (I need to stop doing that!!! this is a #YLPtalk for another day).
While waiting in an entirely separate and crowded auditorium, away from the actual event, I have to admit; I was anxious, hungry and ready to leave, but, I AM SO GLAD I STAYED!
I was sitting next to some complainers who figured the long wait was because they ran out of room, or they weren't going to need us, or the "powers that be" didn't like our outfits but I'm so glad I've mastered the art of tuning people out because they were dead wrong.
Not only did we get seated, but the ushers ended up sitting my best friend and I (together) in the second row! Yes, we were up close and personal, just a few feet from the amazing "Black Girls Rock" stage and we didn't get shuffled or asked to move NOT ONCE!
(This was the only picture I was brave enough to snap as we were leaving out!)
Overall, this was the best experience ever; I ended up sitting right behind Naturi Naughton (commonly known as "Tasha" from 50 cent's show "Power"), and while trying not to fangirl, I began to notice more of THE GREATS and it was completely unbelievable.
I saw the likes of Mary J Blige, Lena Waithe, Naomi Campbell, Fantasia, Beverly Johnson & Phylicia Rashad … it was all so inspirational just to be surrounded by them and to feel their positive energy. In the words of Mary J "Black Girls just Rock, we just do…" I felt the magic all through the room.
My opinion: to fangirl at an elegant awards show entirely uncalled for and is probably the quickest way to get removed. One thing I will confess: I did bring a copy of "An Ode to the "Good Girl" and leave it under Judy Jamison's chair but whether she got it or security removed it is neither here nor there…that was the extent of me fangirl-ing…
I was so honored to be there, and I respected that this was such a sacred space full of #BlackGirlMagic. I didn't see a bunch of bodyguards everywhere, you know? Everyone was basically enjoying each other in harmony, and I thought to myself "yeah this is exactly where I should be."
I declared to myself that next year I'd be up on that stage and not just in the audience and you better believe it! It was like the best motivational rally, therapy session, church service, and most amazing free concert I've ever been to all wrapped up into one event.
You have to realize people are in celeb's faces all day snapping photos, asking for selfies, recording, and it's entirely annoying for them. At least that's what I think. Although I had already signed an agreement not to take out my cell phone before going inside, I was so tempted! Especially when my favorite auntie Phylicia Rashad came on the stage!
They showed me twice so I'm just being joe 😭😭 like look ma I'm on TV!
Some of my favorite moments:
Mary J Blige's acceptance speech (click here on this link to see my cameo LOL)
Fantasia's tribute to Aretha Franklin
H.E.R's performance
Lena Waithe's acceptance speech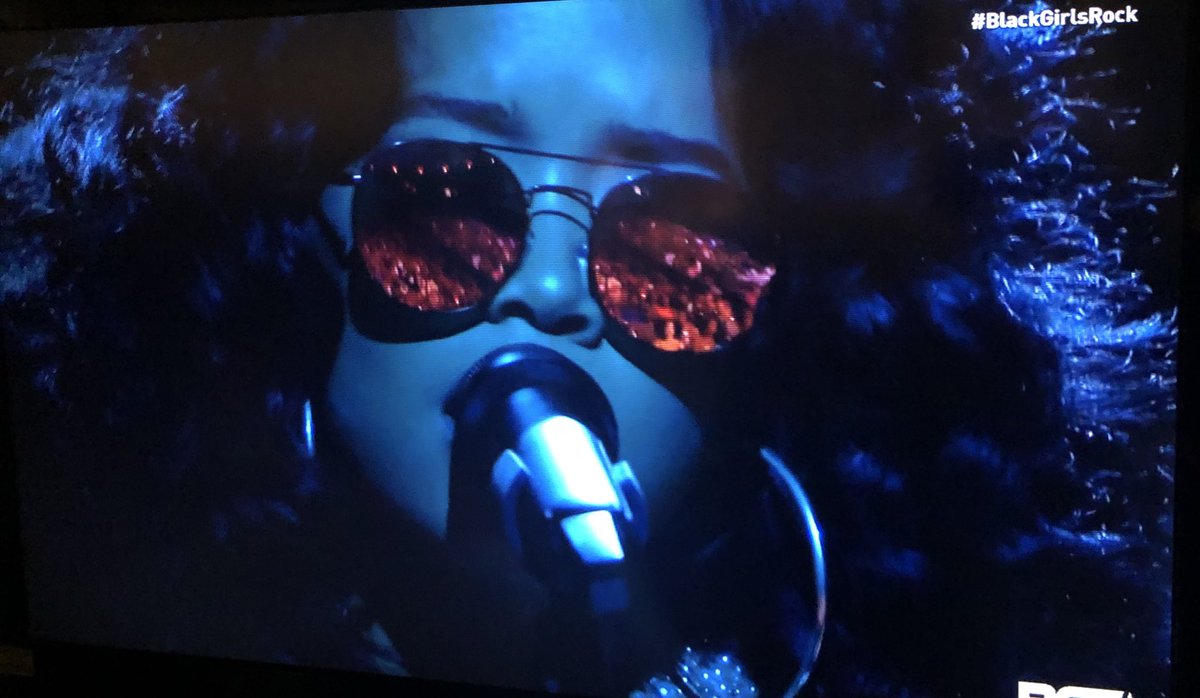 Honestly I signed up through the link for the "2017 Soul Train Awards" with my best friend, ended up waiting for almost 3 hours, and then come to find out it was only to be a seat filler. I was so disappointed but I'm glad I held on because it turned out to be one of the best experiences ever.
I never expected to be sitting up front at alllllll…
The Black Girls Rock 2018 awards show was epic; I'm so thankful to have been a part of that celebration on our culture. I was moved by Trana Burke's (the founder of the #MeToo movement) speech. I was so excited to celebrate, alongside so many pioneers in our culture that I truly admire, ones that I grew up (past generational celebrities) with and am growing up with (current generation). I realize the magic that took place is unique and want to acknowledge that it isn't often that we (black women) are celebrated or glorified in the media.
We have to mostly fight for our kudos and share the weight of having to overcompensate for ourselves sometimes, so let me just say I don't know of a better example/way to do that than exclaiming "Black Girl, YOU ROCK!"
Thank you BET for displaying positive images of black women, shouting out those that are otherwise dimmed, or volume turned down by the media, thank you for shouting us out!!!
________________________________________________________________________________________
Don't let me discourage you Young Loud Proud people, if you fangirl, do it with pride, go hard or not at all…this is only a mere suggestion of how to get re-invited to the events LOL!
I just wanted to share some of my thoughts and experiences with you because you never know sometimes… I've been in certain situations with people whom I really admire, and for the sake of not being a complete fool, I suppress the "shock and awe" methodologies I try and live by… but…what do you guys think? Will being bold always work for your benefit? Sometimes you can put yourself out there, not act shy and grab what you want and it totally works but you have to be careful, or you'll look thirsty.
Have you had a run in with a celeb or hung out with a crush/someone you admire? Do you disagree with this theory? Please let me know!!! Email me! proudloudyoung@gmail.com
If you're interested in more personal reflections/rants/stories like these check out the book of poems I recently published: "An Ode to the 'Good Girl'" available in paperback or kindle (e-book)